Gabrielle Fink
Professional Violinist In New York City
Music
A selection of recorded and live music in concert by New York City violinist Gabrielle Fink.
Gabrielle Fink in Concert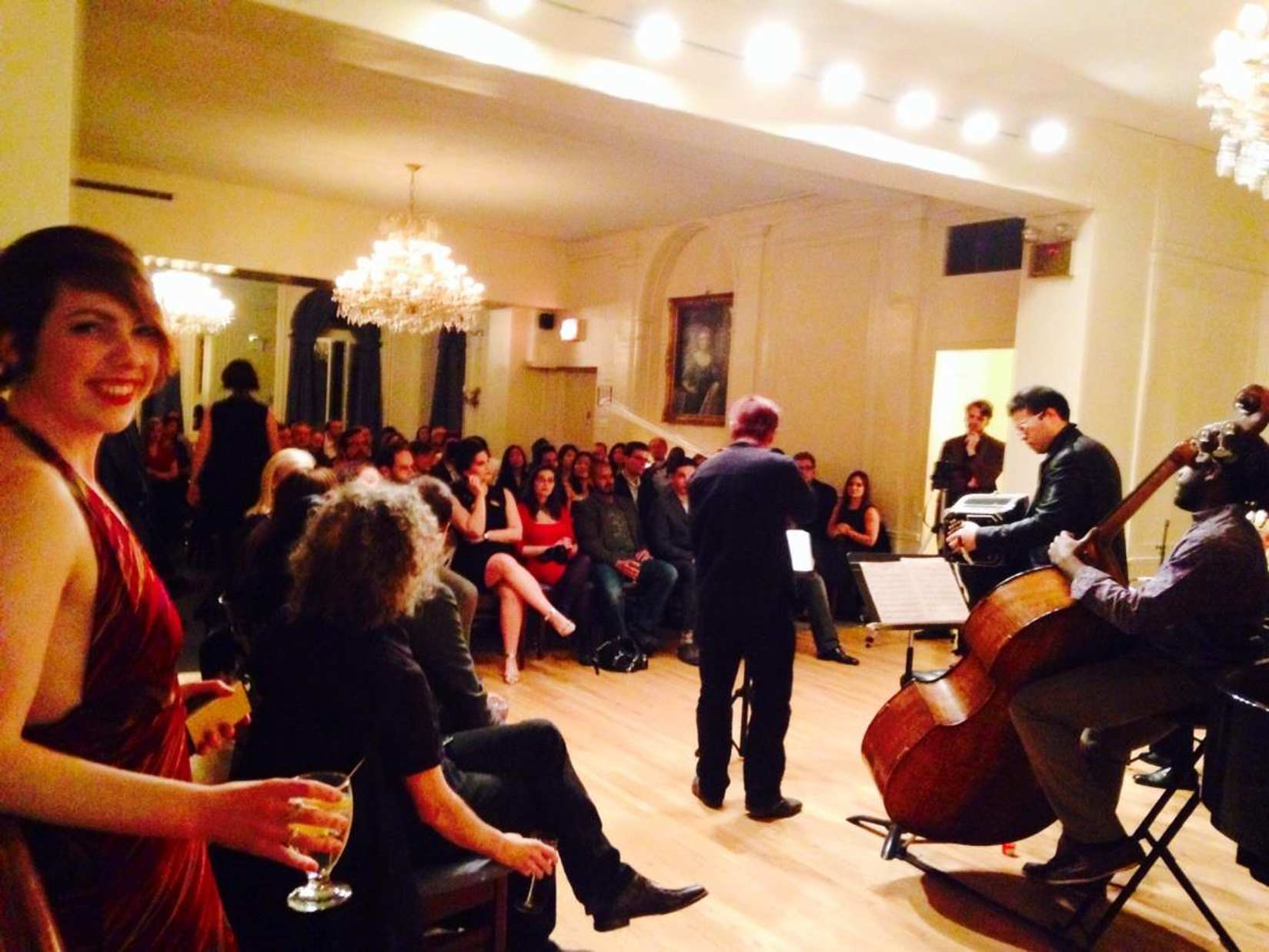 The Gaby Galas are a phenomenon
Music Salons in New York City
They began in the New York City apartment of violinist Gabrielle Fink.
Having a passion for chamber music and an inordinately large Upper West Side living room, Gabrielle sought at first to provide a friendly venue for fellow musicians to share their work. Soon, she had to contend with unplanned audiences of over a hundred friends, neighbors and fellow musicians.
These evenings included widely varied, yet uniformly distinguished musical artists. Writers, poets, musicians, business professionals, and academics came together to enjoy wine and world-class live music in a unique and intimate setting unlike any other in the city.
A classical set would be followed by an Indian raga, a player of the bandoneón by a jazz trio. The close contact between performer and audience was at once fertile and exciting.
In time, what had been spontaneously dubbed the Gaby Galas outgrew her apartment. Realizing how great were both the appetite and the need for these unusual evenings, she began to present them at venues around New York City, newly polished yet retaining the sponteneity and warmth of the original.
About Gabrielle Fink
New York Violinist
Gabrielle Fink was born into a musical family in Miami, Florida. The daughter of a professional violinist, she began to play the violin at age three. As a teenager, Ms. Fink attended the Young Artist Program at the Cleveland Institute of Music. She completed her Bachelor's and Master's degrees at the Manhattan School of Music in New York City, where she received the President's Scholarship as a student of Sylvia Rosenberg.
Ms. Fink frequently performs at Carnegie Hall, Alice Tully Hall, Geffen Hall, Rose Theatre at Jazz at Lincoln Center, Ed Koch Theatre, Metropolitan Opera House, and Symphony Space. She plays with the New York City Ballet, the American Ballet Theatre, New York City Opera, the New York Philharmonia, and this past summer, she was concert master of the American Symphony Orchestra at Bard SummerScape, Leon Botstein conducting.
She is a member of the Philharmonia Orchestra of New York at Jazz at Lincoln Center and has toured as a member of the Philharmonic Orchestra of the Americas, the Lincoln Center Festival Orchestra, the New World Symphony, the Florida Philharmonic, and the Hyperion String Quartet.
In 2015, she toured as the winner of the prestigious Midori Competition. In 2016 she performed in the Radio City Spectacular Show at Radio City Music Hall and was featured onstage with the Rockettes as well as occasionally leading the orchestra as concertmaster. She played with Stevie Wonder and Lady Gaga in Tony Bennett Celebrates Ninety at Radio City. She performs yearly with Andrea Bocelli at Madison Square Garden.
She was featured soloist with the New York City-based ensemble Route 9 for two years. She soloed with the New York Concert Virtuosi Orchestra at Lincoln Center and with the Manhattan School of Music Orchestra conducted by Robert Mann. She was Concert Master of the New York Concert Artists Orchestra. She completed a thirty city tour with the Ten O'Clock Classics Quartet, a collective of soloists committed to performance and outreach. In 2014 she toured Europe with the esteemed Arcos Chamber Orchestra of New York and played with The Royal Ballet at Lincoln Center and the Lincoln Center Orchestra for the Danny Elfman Festival, which was featured on PBS. She frequently plays on Broadway in shows such as the King and I, and she plays viola in The Lion King.
Ms. Fink is a founding member of the Sheba Ensemble, which has toured the U.S., Europe and Israel. She is the founder of Gaby Gala, a beloved salon-style concert series in New York City devoted to bridging the gaps between performer and audience. She has performed, recorded and toured with Grammy winner Fernando Otero and the J.P. Jofre Quartet. She has played at the Emmy Awards, and she appeared as a violinist in the film Ghost Town, a DreamWorks production.
In 2018 she was concertmaster of the American Symphony Orchestra's Hollow Victory at Carnegie Hall.